Welcome to the 2019-2020 school year! AIS proudly acknowledge the Tongva peoples as the traditional land caretakers of Tovaangar (Los Angeles basin, So. Channel Islands) and are grateful to have the opportunity to work for the taraaxatom (Indigenous peoples) in this place. We are a program devoted to the study and engagement with American Indians and Indigenous peoples of California and beyond with a Major, Minor and MA program. As a land grant institution, we take seriously our mission to educate students and the public about the land, history, and on-going effects of colonization on tribal lands and in urban centers. AIS classes at UCLA are taught by distinguished faculty who collaborate with over 20 different communities and countless community organizations. Our goal in this interdisciplinary program is to give the students the skills they need to work with American Indian and Indigenous peoples, develop their own projects, and provide a broad view of American Indian and Indigenous issues. As a land grant institution, we pay our respects to Honuukvetam (Ancestors),'Ahiihirom (Elders), and 'eyoohiinkem (our relatives/relations) past, present and emerging.
RAIN
Retention of American Indians Now! (RAIN) providing comprehensive support services to all students on-campus in order to address a wide variety of needs: academic, personal, social, cultural, and spiritual.
AIR
American Indian Recruitment (AIR) is in the service of serving Native students and providing resources to essentially support the journey to a quality higher education.
Admissions
Ranked among the top programs in American Indian Studies (AIS), the Master of Arts degree, interdepartmental program at UCLA draws  from a wide variety of departments; students choose an area of concentration (History/Law/Policy, Economic Development, Social Relations or Language/Literature/Expressive Arts), acquiring skills that will enable them to conduct original research through the mentorship of over 27 AIS affiliated UCLA faculty.
Click here to learn more about the admissions process.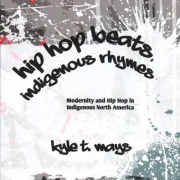 https://amindian.ucla.edu/wp-content/uploads/2019/08/hip-hop-beats-pop_0.jpg
600
395
webteam
https://amindian.ucla.edu/wp-content/uploads/2019/08/Uxd_Blk_AmerIndianStudies_A-e1568757955361.png
webteam
2019-08-30 13:36:17
2019-08-30 14:12:12
Hip Hop Beats, Indigenous Rhymes: Modernity and Hip Hop in Indigenous North America