Aloha mai kakou and welcome to the 2021-2022 academic year! Our curriculum is designed and taught by a distinguished and interdisciplinary faculty who collaborate with over 20 different Native communities and countless community organizations. As much as the American Indian Studies Program at UCLA is devoted to the study of Indigenous peoples, as a land grant institution we are committed to directly engaging with and working for the Indigenous peoples of California and beyond. Among them, we have a particular commitment to the Tongva as the taraaxatom (Indigenous peoples) of Tovaangar (Los Angeles basin, So. Channel Islands).
The past year has been a complicated one for everyone. We experienced a global reckoning with the legacy of colonization, displacement and structural racism all accented by a pandemic that lays bare the deep disparities and negative outcomes faced by Indigenous peoples and people of color. We embark on this academic year with a renewed sense of the power and importance of scholarship in shaping research, teaching and giving voice to and strengthening communities. We hope that we are able to teach, learn and assemble safely in this coming year. Our investments in AIS's undergraduate Major and Minor programs and its MA program are more important than ever. With humility, respect, and optimism I look forward to welcoming all of you in the near future in person and virtually so that we can all continue to build on the legacy of UCLA's AIS program begun more than 50 years ago.
Faculty Statement for Justice
As leaders of academic units at UCLA dedicated to social justice, we stand in solidarity with those in Los Angeles and throughout the country fighting to end state violence against African Americans, Indigenous peoples, Latinx, Asian, and other communities of color. – Read more
Joint Statement – NALSA, AIGSA, AISA, AIA
June 5, 2020
As leaders of Native and Indigenous student and alumni organizations at UCLA, we condemn the state and police violence against our Black relatives. We write to affirm our commitment to social justice and stand in solidarity with our Black community in UCLA, Tovaangar and all unceded territories. – Read more
RAIN
Retention of American Indians Now! (RAIN) providing comprehensive support services to all students on-campus in order to address a wide variety of needs: academic, personal, social, cultural, and spiritual.
AIR
American Indian Recruitment (AIR) is in the service of serving Native students and providing resources to essentially support the journey to a quality higher education.
Admissions
Ranked among the top programs in American Indian Studies (AIS), the Master of Arts degree, interdepartmental program at UCLA draws  from a wide variety of departments; students choose an area of concentration (History/Law/Policy, Economic Development, Social Relations or Language/Literature/Expressive Arts), acquiring skills that will enable them to conduct original research through the mentorship of over 27 AIS affiliated UCLA faculty.
Click here to learn more about the admissions process.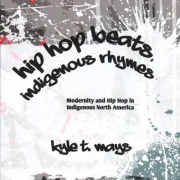 https://amindian.ucla.edu/wp-content/uploads/2019/08/hip-hop-beats-pop_0.jpg
600
395
webteam
https://amindian.ucla.edu/wp-content/uploads/2019/08/Uxd_Blk_AmerIndianStudies_A-e1568757955361.png
webteam
2019-08-30 13:36:17
2019-08-30 14:12:12
Hip Hop Beats, Indigenous Rhymes: Modernity and Hip Hop in Indigenous North America